BECOME A FREEDOM PARTNER!
Freedom Partners are businesses, churches and organizations supporting Scarlet Road and our anti-human trafficking efforts. Learn about the different ways you can make a difference below!
To become a Freedom Partner please fill out the form below. Once you sign up, we will work with you to provide a custom resource packet for you and your business.
We are so grateful you want to help anti-human trafficking efforts!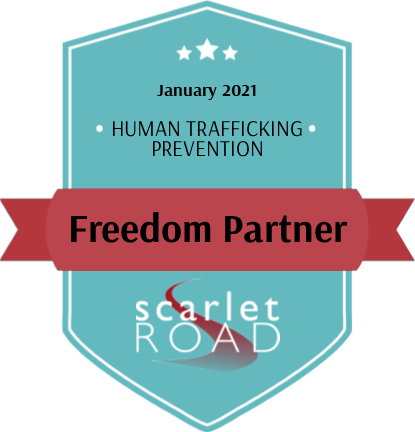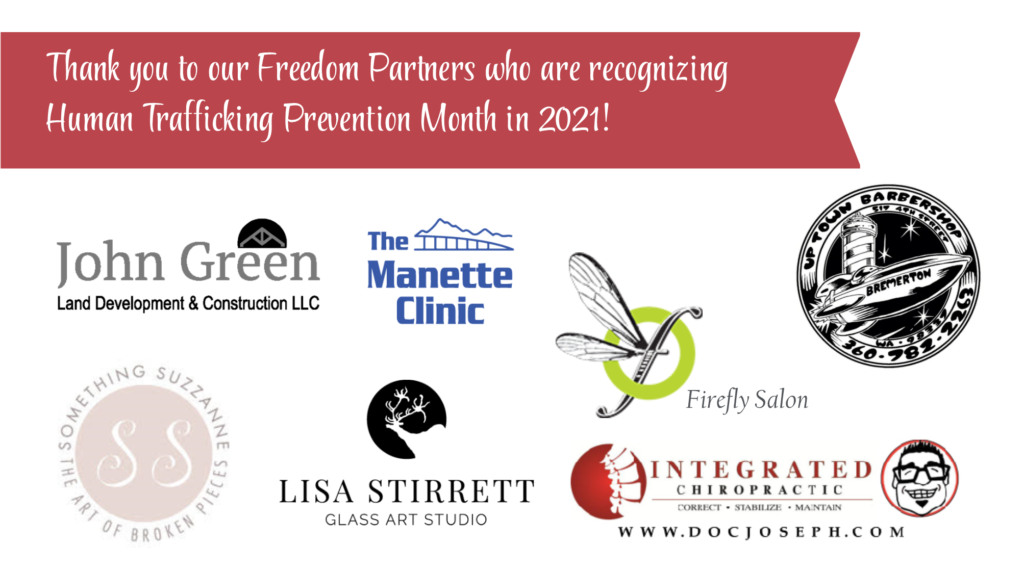 ---
WAYS TO ENGAGE
---
CUSTOMER ENGAGEMENT – engage your customers in the month of January to spread awareness and/or raise money for anti-human trafficking efforts locally
Commit to talking with customers/clients about the issue during the month of January
Allow a portion of your retail or counter space to be used as an information station
Display content on your website about Human Trafficking Prevention
Table tent
FINANCIAL ENGAGEMENT – partner financially to support local anti-human trafficking efforts
Donate a percentage of profits for the month or a specific day
Host an event/fundraiser; this can be virtual too
Have a donation box at your retail location for the month of January for customers to give
Company financial contribution to Scarlet Road
Provide a company employee donation match to Scarlet Road
Encourage employees to donate to Scarlet Road one time or monthly (even $10 helps!)
STAFF ENGAGEMENT – engage your staff in anti-human trafficking training, volunteering, fundraising or creating policies that are in line with anti-human trafficking
Commit to all employees completing Businesses Ending Slavery & Trafficking (BEST) anti-human trafficking training
Offer an in-person training for your employees or incentive for them to attend our volunteer training
Set a company goal for volunteer hours
Become a Safe Employer for victims of sexual exploitation
Evaluate policies and practices to better address, identify and resource victims of human trafficking
SOCIAL SERVICE PROVIDERS – Making a specific effort to identify and safely care for victims of sexual exploitation
Recommended protocol for implementing safe services and referrals for victims of human trafficking and sexual exploitation
Housing organizations, Case management support, Job skills programs, Youth programs, Medical/Mental Health Programs, Ministry/Church can all partner in unique ways, we would love to connect with how your organization can partner specifically
---
If you have further questions or want to discuss more with our staff, please email pavingtheway@scarletroad.org